Online Gaming Affiliate Program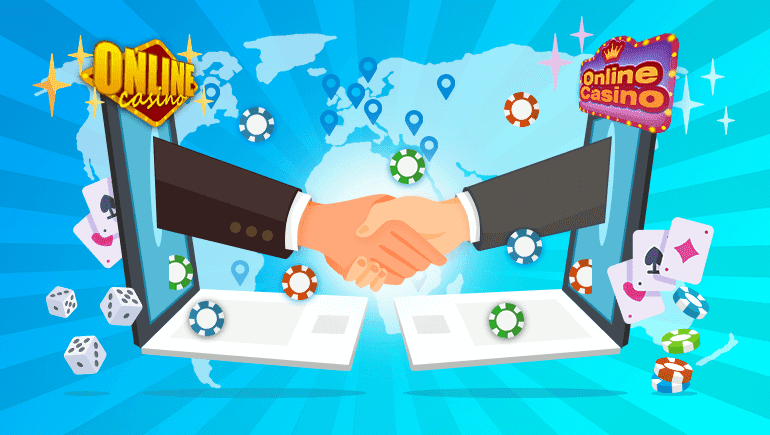 The popularity of online casinos is at an all-time high. Naturally, more businesses are entering the arena. However, the success or failure of online gaming platforms, such as casinos, largely depend on the strength of their network of gaming affiliates.
That's right, gaming affiliates are indispensable for the success of online casinos. That's why, any online casino with a long term sustainability strategy has a robust affiliate program in place. Despite the central role they play in the gambling industry, anyone can become an iGaming affiliate, even without any significant investment.

What are gaming affiliates and affiliate programs?
Gaming affiliates are third-party websites or businesses that promote online casinos. A bulk of the traffic and new customers that online casinos attract is through gaming affiliates. In essence, they are the biggest source of customers and income for the gambling businesses. In return for the promotional services that gaming affiliates offer these online casino operators, they receive a percentage or commission as per pre-determined rates.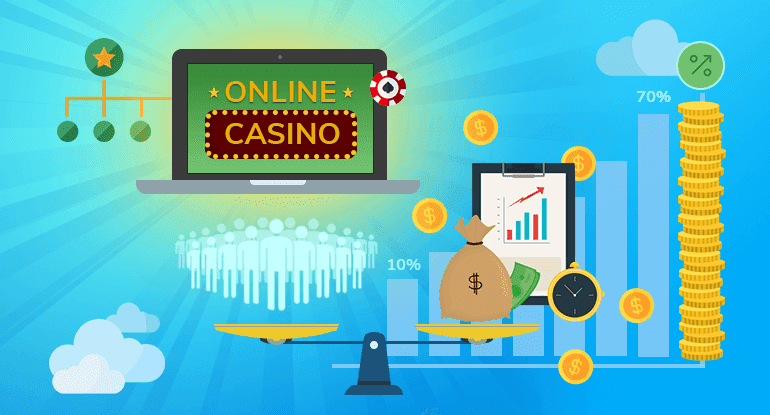 The commission or percentages that gaming affiliates receive from gambling operators is determined by the affiliate programs offered by the operators. As gaming affiliates are critical to their success, gaming operators offer them impressive rewards for bringing new customers to their websites. iGaming affiliates get anywhere between 10 to 70 percent of the revenue generated by the casinos on the customers they bring them.
As the competition between online casinos is intense in the online gaming industry, high revenue sharing programs are common in the gambling industry. Thus, gaming affiliates often make an enormous amount of money from gambling without actually setting up a casino.

What does it mean to be an affiliate?
Gaming affiliates do not usually start out as affiliates. They start out as gaming blogs, who cover casino industry news and developments extensively. They produce organic content, focus heavily on SEO and online marketing, and give their visitors content that is actually useful to them. In time, they gain the trust of their audience and build a powerful brand for themselves.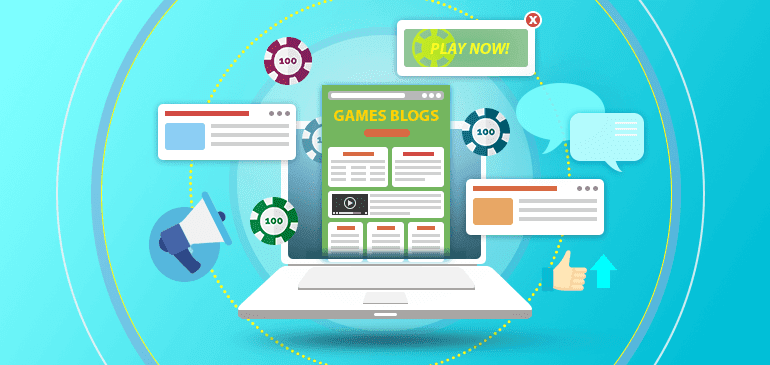 The content on these gaming blogs is highly relevant to their audiences. The blogs feature tips, tricks, casino industry news, top casino lists, and so on. They offer reliable information that visitors can use for placing bets, and so on. They even engage their audiences in meaningful conversations through platforms like forums. Once they have built a strong brand presence for themselves, they then sign up for affiliate programs of online casinos and begin posting promotional content that drives traffic to them.
Apart from bringing new customers to them, gaming affiliates also connect online casinos with potential affiliates in the market. In summary, gaming affiliates try to bring as many new customers to online casinos as possible using inventive techniques, and in return, they get a share of the profits that online casinos make.

Online gambling profits and commissions
Despite the high commissions and percentages that online casinos share with their affiliates, it is the online casinos that end up making the highest profits in the online gaming industry. After all, it is they who have set up all the g ames, take care of marketing in the gaming industry, and do the heavy lifting involved in running an online casino business. However, this doesn't mean that online casinos do not have significant costs involved.
There are many cost centres involved in an online casino business. Here are some of them:
1. Online casinos have to obtain licenses from the respective government bodie s where they operate.
2. These licenses can be one-time licenses or periodic licenses that have to be renewed ever y few years.
3. Web app and mobile app builders supply the software platforms with games to the onlin e casinos. T hese software platforms must be bug-free, highly secure from outside invasion, and be user-friendly. All of this comes at a significant cost to the casino operators. In addition, the software platforms are constantly updated to make them more secure and improve the user experience for the customers. Hence, there is a recurring cost involved, such as yearly maintenance fees.
4. Online casinos invest heavily into advertising, marketing, and various promotional schemes to promote their platform. Affiliates are just one of the many options they use, although they are the biggest.
5. Customer wins are also a major expense for the casinos. A significant amount of revenue goes towards fulfilling customer winnings.

In addition to these, they could be many other cost centres like website hosting charges, additional security infrastructure costs, and so on. Despite all of these costs, online casinos have high profit margins, because of which they do not mind sharing significant commissions with their affiliates.

Affiliate commissions
Gaming affiliates get two types of commissions from the online casino operators – time bound royalties and costs per action.
Time Bound Royalties
Under this scheme, igaming affiliates receive a percentage share (say, 10% or 70%) of the revenues or profits made by an online casino from a customer they received from the affiliate. Typically, these type of royalties are usually shared by the operators for the first month after the acquisition of the respective customer.
Costs Per Action (CPAs)
Under this scheme, affiliates get a fixed sum of money from the online casinos when a customer they sent to the casino performs a particular action. Affiliates typically receive CPAs when the customer signs up, or places their first bet on the online casino. The CPAs can be anywhere between $100 and $500 depending on the casino operator.




Online gambling companies
It is true that the online gambling industry is insanely profitable. But, that doesn't mean that it is easy to enter this segment. Because of the high profitability, a few early entrants into the market have managed to completely dominate the industry. In many cases, a single online casino operator has dozens of online casinos, each offering a different gambling experience for the customers. Some casino websites developed by a gambling game development team only offer sports betting, while others offer only lotteries, while some others offer both of them. In fact, a single holding company acts like a marketing operator for dozens of online casinos and each of the casinos operate independent of each other.
At present, some of the most prominent marketing operators in the online gambling industry include 888 Holdings, Kindred Group, The Stars Group Inc., Betfair, IGT, Ladbrokes Coral Group PLC., GVC Holdings, Scientific Games Corporation, William Hill PLC, and Playtech PLC.
Blogs, affiliates, and casino operators
The journey from blogging to a gaming affiliate is fairly easy. Many bloggers take up this journey and become successful gaming affiliates within just a matter of a few weeks to a few months. However, opening an online casino is an entirely different challenge altogether.
It is not the financials that pose a significant challenge when launching an online casino. Indeed, it is the variety of licenses, regulatory framework, and legal requirements that make it difficult to enter the casino business.
If an affiliate can manage to take into consideration all of these factors, then they can raise enough monetary resources from their affiliate services by marketing in gaming industry to launch a casino business.