How to Run a Legal Poker Game and Still Be a Profitable Business?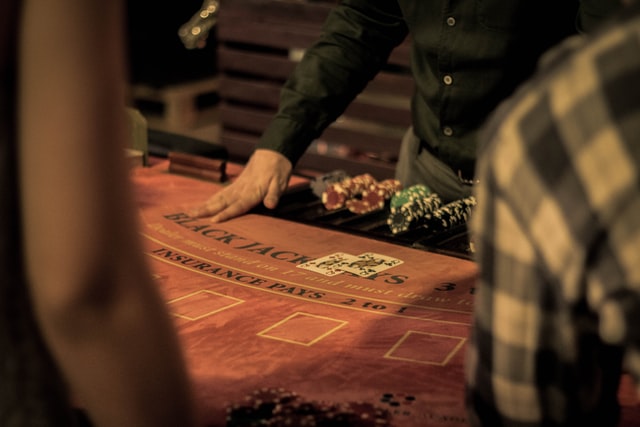 What are the best ideas for a perfect get-together with friends? Preferences and tastes differ, so some of us go on a fishing trip, others opt for a hiking weekend or visiting a ball game. Thrill-seekers will enjoy more unique and breathtaking pastimes like bungee jumping or skydiving.

Yet, even quieter entertainments can bring no less excitement and immersion, making a home poker game night a coveted dream for routine-ridden people of the hectic 21st century. Thanks to movies and books, a company of buddies with men wearing stripe suits and women in The Great Gatsby-style dresses absorbed in Texas holdem and using flash to win outrageous sums has become an iconic picture mimicked by thousands of cosplayers across the globe.

Today, this Prohibition-time image is getting somewhat tarnished though, what with the lockdown limitations introduced to prevent the global pandemic proliferation and ubiquitous digitalization pervading all spheres of life in the early third millennium. However, poker doesn't lose its appeal both as a carefree amusement and an opportunity to make money, having entered a high-tech phase. Profit-savvy entrepreneurs have learned to run a poker game for profit. They build online poker games and make poker websites , monetizing people's passion for gambling.

Estimated as a 100 million-strong market , the online poker industry is considered one of the most lucrative investment niches. Being an exceedingly attractive startup idea, it is still shunned by many budding business people who aren't sure in the answer to the crucial question: "Is running poker games legal?"

Classification of Legal Games
Gaming activities where a person can win or lose some money have always been a controversial issue treated oppositely in different times by different countries and regimes. For instance, gambling is legal in Mexico while in Turkey and Japan it is not. However, there are some universally recognized gambling events that are considered legal by most authorities.
Social Games
Most card games – be it poker, blackjack, bridge, or otherwise – that you play with your friends and family (defined as people having bona fide social relationships) fall into this category. They are typically played in a private residence (not in a public area) with no house bank, rake, or admission fee levied from participants. The only gain they get is their own winnings while the house owner must receive none. Sometimes, regulations add to this list of conditions the non-attendance by professional gamblers and the absence of public advertisement.

Some legislations label such legal poker games as private, not social ventures. It effectively narrows the roster of potential participants from society at large to only certain people. Most people believe that this is only a terminological difference, but astute lawyers consider such a shift in phraseology as a sign of a stricter acceptance philosophy. Describing private games as non-social but private issues, local and national governments aim to limit access of the large audience to uncontrolled gambling environments.

Be it private or social, there are some circumstances that can make legal poker game at home a potentially dingy endeavor. Law enforcement bodies are more likely to question the legality of such undertakings if they involve quite a large number of players with serious money at stake that annoy the neighbors with raucous behavior and excessive noise.
Charity Games
Any game where some portion of the gambled money is donated to charity belongs here. But if you decide to do it at your home poker party, it is not enough to qualify as a charity game. You should have some officially documented blessing from the authorities. Conventionally, you should submit a charity gambling application and obtain approval. Sometimes, a certain fee should be paid as well. In the USA, to be considered a charity project is necessary to receive official non-profit status from the IRS.
Because of the latter, charity games are often termed non-profit games, although this name is not totally correct. In fact, non-profit (or zero-profit) is the activity where the host doesn't get any money for running the game. In charity games, all the profit (both by hosts and by other participants) is directed to charity purposes, which means that there is some profit, after all. To be legally precise, such ventures should be called negative-profit ones since everybody (and especially the host who oftentimes spends a pretty penny for refreshments, beverages, electricity, and water used to keep players in game for quite a time) is left with less money than they had before the party started.

Evidently, if you plan to launch a successful poker game business and create your own poker game website, your venture can be considered neither social nor charity gaming enterprise. That is why, to offer a high-end service and keep within the law, you must pay close attention to many details.

How to Run a Legal Poker Game: Minutiae of Paramount Importance
Gambling business stands somewhat apart from other entrepreneurial activities, so before diving headfirst into it you should learn some critical aspects that you will have to come to grips with.
Licensing and Regulation
This is the starting point of all your business plans. You should clearly envisage where players will hail from to know what gaming laws for poker in this country are and get gambling license of a standard form valid there.
First, you should find out where gambling is prohibited. To have a clear picture, you must get down to the regional level since some nations may delegate the law-making initiative in this domain to provinces. For example, in the USA there is no single federal law on gambling, so in more than half of the states (notably, Illinois, New York, Michigan, and Utah) it is illegal and legal only in four (Louisiana, Nevada, North Dakota, and Ohio). In other states (California, Florida, Texas, and Colorado, to name a few), playing poker is allowed in case it is a social game described above.
Even if gambling is legal, you must obtain a license to run a poker site and licensing rules tend to differ greatly. Gambling can be limited to certain places and times when it is allowed or to specific kinds of it. Besides, countries may differ in the strictness of supervision rules (very loose in, say, Costa Rica or very stringent in the UK) and the amount of fee you will have to pay for getting a permit.
Local or/and National Taxes
This is again very individual, yet what is common for all of them is the calculation benchmark. The taxes you owe depend on the revenue you earn. Just make sure you know the difference between revenue and profit. Profit is what you have left after accounting for all expenses. But revenue is all of the latter plus income you have earned. And the taxes you will pay are determined by this greater number.
Since dealing with taxes is a rather complicated issue with lots of factors to be considered, we advise talking to a lawyer, who will get down to the precise sum you will have to fork out.
Software
If following the previous bullet points is going to enable your venture to operate in accordance with the legislation, this one greatly conditions its ultimate success. Multi-Programming Solutions as a seasoned poker game development company knows that the quality of the software is a game-changer (the pun is intentional) in the industry.
In fact, your dilemma lies in the choice between a
white label solution
(aka poker skin) and a bespoke platform. Poker skin is simpler, quicker, and cheaper to obtain. Actually, you buy a ready-made gambling site that you give a catchy brand name to and launch into action on short notice. Sounds perfect? It would until you remember about USP.
In the highly competitive world of contemporary e-gambling, a run-of-the-mill webpage won't attract visitors who will consider it just another site out there and won't like to trade their old familiar platform or app for one more bird of a feather. So if you dream of offering gamblers all over the world a Unique Selling Proposition you must develop online poker game that is genuinely unique. And that spells opting for custom development.
Deciding upon the bespoke poker solution, you should realize that it is going to take the developer from six to twelve months to build it and be ready to splurge on it quite a lot. But you will get real worth for your money, supplying the poker site of yours with 3D and VR opportunities, mobile and social media reach, webcam and live chat functionalities, and even integrating bitcoin payment option. All of these will turn your project into a state-of-the-art venture, keeping abreast of the latest technological trends.
Marketing and Advertising
Many laymen in the field believe in the "make it high-quality and they will come" motto. Don't fall into the trap and rest on your oars, expecting visitors to come by the dozen as soon as the site is kicked off. You should invest heavily into marketing campaigns, extend your customer reach over social media and paid advertisements, and generally go all lengths to let people know about you and explain to them why you are better than your rivals.
Banking
By many accounts, problems in payment processing are among the top reasons for complaints by offshore US customers. Consequently, setting up smooth payment handling will let you stand out significantly among your competitors. While choosing a payment processor for your poker site, make sure it suits online gambling and pick the one that is capable to deal with as many payments as possible.
Personnel
Even if you are a jack of all trades, you can't do a dozen jobs simultaneously, so don't hope to run a poker site on your own. You will need employees who will be in charge of website maintenance, advertising/marketing, payment processing, social media management, and customer support. The latter is a coal-and-ice responsibility that can become your competitive differentiator. By prompt and competent reaction to issues and respectful attitude to clients, you can make sure your long-standing customers don't churn and random newcomers will become your loyal clients for years to come.
Conclusion
Launching an online poker site is a potentially high-income business in our IT-powered post-COVID world. Before starting one, you should make sure it complies with all legal regulations and procure top-notch gambling software. Our company can build a first-rate custom poker site at an affordable price, impressing you with effective operationability and your clients with exquisite design and satisfying UX.